Conveyors vs. Trucking & Hauling for Heavy Construction Projects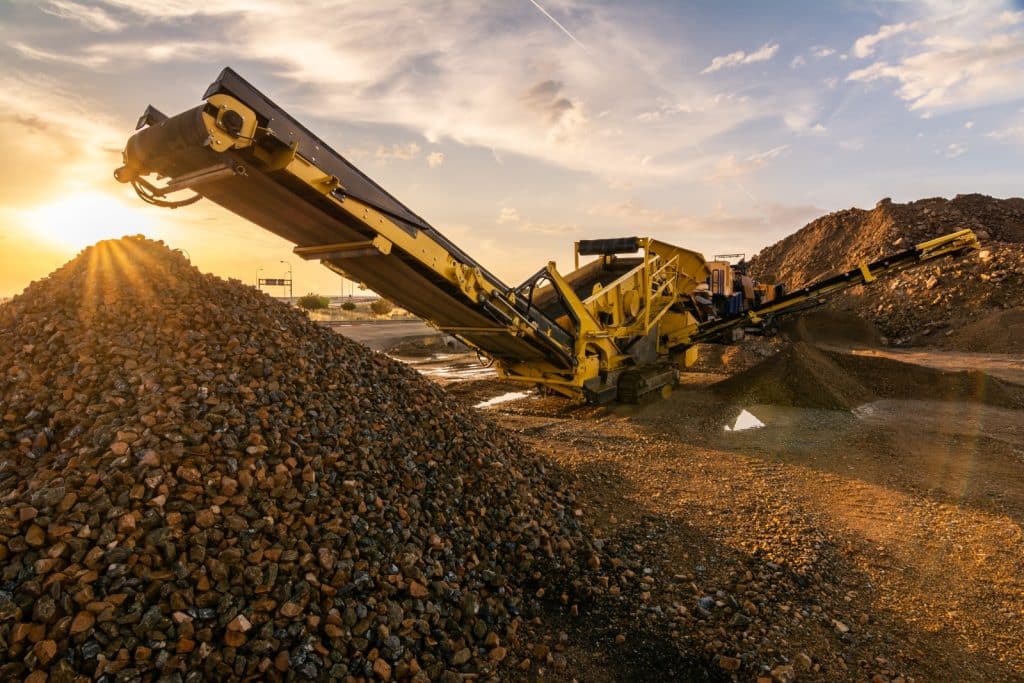 If you're a project manager or estimator planning a heavy construction project that requires transporting bulk materials, you're likely already weighing the advantages of using fixed construction conveyors vs. trucking and hauling.
It's a critical decision that depends on a range of factors from project logistics, the type of material being moved, and the distance and terrain involved.
For many operators, haul trucks can be a tempting offer with low entry costs, few long-term commitments, and operational flexibility. That might not be the whole picture, however.
Below, we take a closer look at the advantages offered by modern, versatile overland conveying systems versus the costs and benefits offered by traditional short-haul trucking operations. Read on, the results might surprise you.
WHY USE A CONVEYOR ON YOUR NEXT CONSTRUCTION PROJECT?
For large earthmoving projects, uncovering the true cost of transporting materials isn't always straightforward, including its impact on your staff and local communities.
Let's explore two very practical reasons why choosing an overland conveyor for your heavy construction projects makes sense for your bottom line and beyond.
1. BETTER FOR BUSINESS
The total purchase, installation, and operating cost of a conveyor system for your project can be hard to square with the straight-up cost of a trucking and hauling service. However, all that moving metal comes with potential impacts beyond what you might see on your monthly bill.
DODGE THE DRIVER SHORTAGE
Haul truck drivers have become harder to find amid a historically tight labor market. The ongoing shortage is making it more challenging to move dirt, sand, gravel, and other materials on time.
The driver shortage means putting more trucks on the road isn't always an option for short-haul transfers anymore. Dirt conveyors, however, can operate 24/7 with a far smaller workforce.
Project managers can reduce the dependence on truck drivers by opting for conveyors vs. trucking and hauling. Fixed conveyors make sense where trucks repeatedly haul the same route, and portable conveying options can be repositioned to keep pace when work locations shift.
Moveable conveyors are anchored with concrete blocks rather than secured to the ground, so they can be moved as needed.
Stacker conveyors pile up (or stack) materials, such as aggregate.
Radial stacker conveyors can rotate freely, allowing you to create stockpiles over a wide, sweeping arc.
Transfer conveyors raise material so that it can be unloaded into a hopper or onto another conveyor system.
KEEP ROLLING WHEN TRUCKS CANNOT
With 24/7 operation in all types of weather, fewer individual units to maintain, and no disruptions from road closures, use limitations, or congestion—a conveyor keeps working when truck fleets cannot. There's no need to maintain roads or clear snow and ice to keep your project rolling.
You also won't need to worry about whether or not a contractor is maintaining vehicles properly or drivers are violating hours of service regulations.
That means reduced disruptions, fewer bottlenecks around your critical material transfer needs, and more usable project uptime so you can meet deadlines and hit your tons-per-hour targets.
AVOID ACCIDENTS 
According to OSHA (Occupational Safety and Health Administration), approximately 75% of struck-by fatalities involve heavy equipment such as trucks or cranes.
Modern conveyors run continuously with few workers directly accessing them during operation. In fact, a conveyor system requires only half the workforce needed to run a fleet of trucks.
With less mobile equipment, reduced handling, and fewer on-site operations & maintenance staff, replacing short-haul trucks with conveyors eliminates safety risks to your people and also reduces your exposure to expensive equipment replacement costs and liability issues.
2. BETTER FOR PEOPLE AND PLANET 
Environmental, social, and governance tracking and reporting is now a best practice for large and small construction companies. A project's noise pollution, gas emissions, road wear, ecological damage footprint, and safety commitments must be weighted alongside profits.
CONVEYORS MAKE LESS NOISE 
Haul trucks are noisy. Trucking sounds affect nearby workers and frustrate the public, especially if your project is in a populated area.
Conveyors are an excellent option for earthmoving when you're concerned about keeping noise levels low. When you select the appropriate idlers, low-noise bearings, and conveying speed, you'll find a conveyor system surprisingly quiet.
CONVEYORS RUN CLEANER 
For underground projects, such as tunnel construction, conveyor systems have a significant advantage over trucking & hauling. In addition to running quietly, conveyors emit little exhaust. Fewer toxic fumes mean fewer requirements for air scrubbers and exhaust removal.
Conveyors are also cleaner and more efficient. Unlike trucks, a conveying system doesn't throw stones or spread dust. Modern transfer chutes with conveyor belt skirting essentially eliminate dust and spillage, which is an advantage for any construction site.
CONVEYORS CAUSE LESS WEAR & TEAR 
Conveyors can move aggregate and other bulk materials quickly over challenging terrains, such as hills, rivers, and unstable ground. Your material transfer may require less road construction and avoid the vibration and damage to public streets sometimes caused by hauling.
CONVEYORS VS. TRUCKING BY THE NUMBERS
Recent research supports the idea that modern, efficient conveyor systems can more than offset the apparent savings on short-haul trucking when total operational costs are considered.
EFFICIENCY
A 2007 study by the Department of Energy found that diesel hauling accounted for 87% of the cost of material handling for major mining projects in the U.S. The same trucks delivered only 63% energy efficiency, measured in value delivered relative to the cost of diesel and other inputs.
By contrast, the study found that electrically powered conveying systems were able to operate at close to 63% efficiency, potentially delivering big savings on a major project cost center.
'WHOLE PROJECT' SAVINGS
More specifically, research conducted in 2016 for an iron ore mine in Brazil found that while the capital cost of using haul truck services to move material was just more than half of that of building a conveyor system with the same capacity, the operational cost of moving a ton of ore by conveyor was a quarter of that of trucks, and produced 29% less carbon emissions.
Another study found an innovative "regenerative" conveyor design at a Polish open pit mine was able to move coal almost twice as efficiently as heavy haul trucks.
AT WEST RIVER, WE'RE SHIFTING EXPECTATIONS
Heavy construction projects face unique challenges, from moving work locations to competing deadlines. As a project manager or estimator, getting the right quantities of aggregate or other bulk materials where they're needed is just one of the problems on your plate.
Modern conveyor systems are safe, efficient, and reliable and can be right-sized to your specific material-handling requirements. You'll get a low-impact solution that delivers on your promises day in and day out.
At West River Conveyors, we build conveyor products that shift expectations about what's possible with a bulk material handling system. We supply fully integrated conveying solutions for heavy construction and other projects, and back them up with best-in-class support and service.
If you're looking for a smarter way to transport bulk aggregate, contact us today for a customized quote for a conveyor system that suits your needs. It may be the smartest move you make!