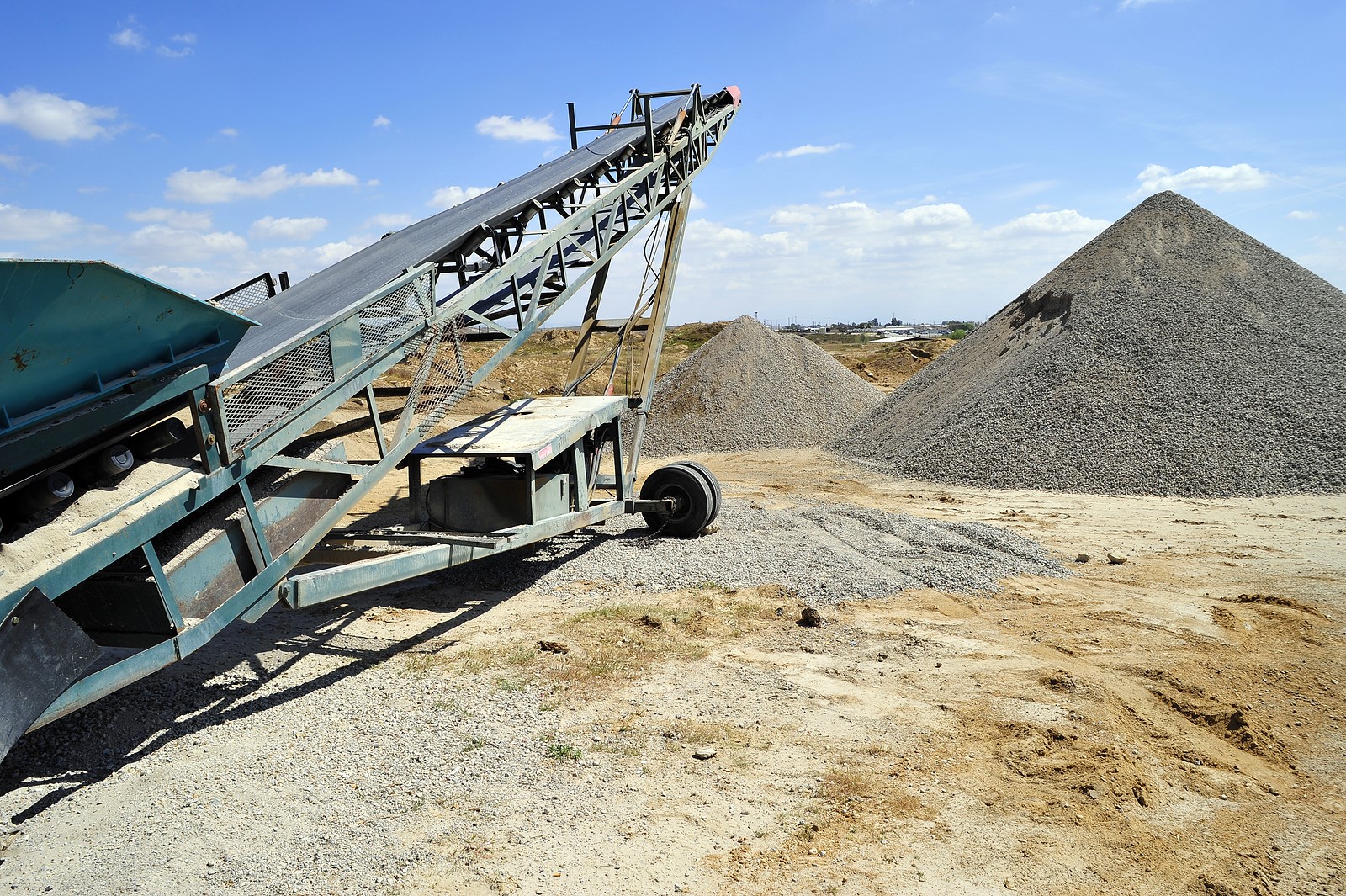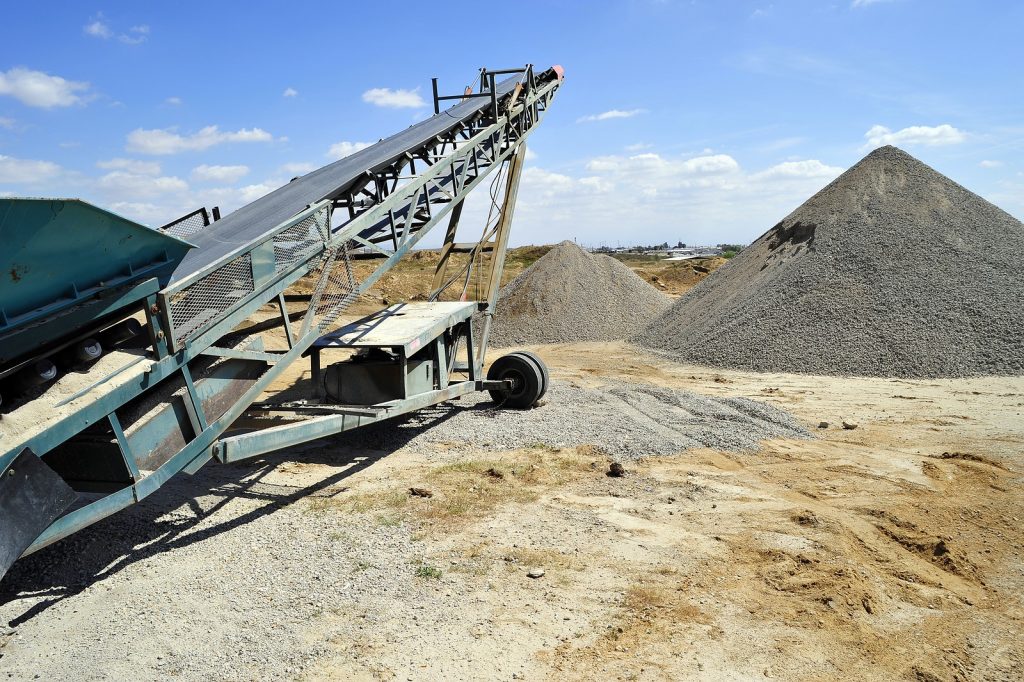 Portable transfer conveyors, also referred to as transfer or grasshopper conveyors, are an effective method of moving materials around a site or loading and unloading trucks, railcars, and storage bins.
When compared with trucks, portable transfer conveyors get the job done faster while saving on fuel and labor. Their ability to access areas too small for truck operations reduces material losses and makes better use of the space available. Applications include sand and gravel quarries, aggregate plants, and fly ash remediation projects.
Unlike a permanent overland conveyor, portable transfer conveyors are engineered for mobility as well as strength. When one project is complete a front-end loader or large fork truck can move the transfer conveyor to another location at the job site. A wheeled transfer or grasshopper conveyor is appropriate in light-duty applications, but West River Conveyors has developed a skid-mounted system more appropriate for heavy duty projects. This type of portable transfer conveyor can be dragged to the desired location and set in place, utilizing pre-cast concrete forms to secure the high tension head and tail sections.
West River Conveyors has a long track record of designing and installing transfer conveyor systems, both portable and permanent, and can advise on the best solution to your needs.
PORTABLE TRANSFER CONVEYOR SYSTEM DESIGN & MANUFACTURE
West River Conveyors uses Overland Conveyor's Belt Analyst program to design portable transfer conveyors that meet and/or exceed Conveyor Equipment Manufacturer's Association (CEMA) requirements. Our conveyor systems are fabricated from heavy-duty structural steel and use proven components from industry-leading companies.
Mining, quarrying, and related aggregate handling applications are hard on conveyor equipment. West River Conveyors understands the operating environments and expectations and engineer systems for long life and high durability. Many applications have unique challenges, so we custom design to suit the individual situation and requirements.
PORTABLE TRANSFER CONVEYOR SYSTEM COMPONENTS
In addition to structure and belts, portable transfer conveyor systems from West River Conveyors can include:
To ensure trouble-free operation components are sourced from leading suppliers or manufactured in-house by West River Conveyors.
CONVEYOR STRUCTURE
Structure for a portable transfer conveyor includes top and return idlers, brackets, stands, spreader bars, and the associated hardware. West River Conveyors typically designs and builds the complete structure with all these components but can just supply parts as needed. Intermediate sections can be skid-mounted for mobility and durability.
CONVEYOR TERMINAL EQUIPMENT
Terminal equipment includes drives, take-ups, tail sections, and discharge chutes. No conveyor system runs smoothly without properly designed and manufactured terminal systems. Terminal equipment is the heart of every conveyor and requires the necessary design detail to maintain full functionality and provide system continuity. For nearly 40 years, West River Conveyors has developed a reputation for robust system design and world class quality manufacturing.
PORTABLE TRANSFER CONVEYOR BELTS
The belt is the life line of every conveyor system. West River Conveyors offers three types of premium quality belts for portable transfer applications. These are:
Delta plied belt – rubber covers over two to four or more textile plies makes them ideal for abrasive materials and heavy loads
DX/ST steel cord belt – high strength, excellent impact absorption, good troughing
Deltatherm belt for transporting hot material
All three are manufactured by Depreux, part of the Cobra group, a leading conveyor belt manufacturer. Covers are available to suit the material being conveyed.
PORTABLE TRANSFER CONVEYOR ACCESSORIES
To maximize safety, efficiency, and durability many users of portable transfer conveyors add additional components. Accessories available from West River Conveyors include:
Product specialists at West River Conveyors can advise on the accessories that will add the most value to your application.
CUSTOM EQUIPMENT PACKAGES
Standard solutions don't always fit the area or terrain requirements, may not offer the performance needed, and may not suit the budget either. That's why West River Conveyors is more than happy to work with customers on solutions tailored to their exact needs and budget. Our knowledgeable team of conveyor specialists would welcome the opportunity to assemble a package for you.
ABOUT WEST RIVER CONVEYORS
We've been delivering conveyor systems and related products to the mining, quarrying, and bulk material handling industries since 1981. Our specialist engineering knowledge, combined with our relationships with the premier companies and brands in the conveying industry, ensures we provide the highest levels of product quality and customer service.
Call us at 800.332.2781 to discuss your conveying needs.