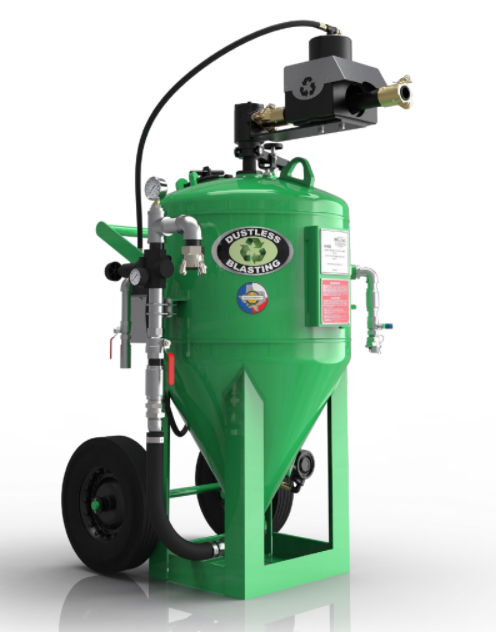 The key to a high-quality paint or powder coat finish is preparation. Unless rust, contamination, and old paint are removed thoroughly the new coating won't form a satisfactory bond with the metal underneath. It won't last as long, it will let rust get a toehold, and the finish won't look as good as it could.
West River Conveyors offers sandblasting and dustless blasting services to anyone who is serious about surface preparation. Our DB800 Blast Pot leaves surfaces clean and ready for coating. Let us prepare your metalwork for painting and coating and you'll see what a better quality finish looks like.
Ask About Sandblasting & Dustless Blasting Services
OUR SANDBLASTING & DUSTLESS SANDBLASTING CAPABILITIES
Whether you need to give something a new coat of paint or want to clean surfaces quickly and thoroughly, dustless blasting is the answer. Our DB800 Blast Pot is engineered for the fast and safe removal of paint and contaminants and cleaning of steel surfaces. It works with a variety of blast media to clean quickly without damaging the substrate.
Sandblasting is carried out in a special-purpose booth that accommodates structures up to 50 ft x 50 ft x 30 ft high. Examples of the work we undertake include:
Prepare the outside of a vehicle for a new paint job
Remove unwanted blemishes from gearbox housings, parts, and other heavy equipment
Ready conveyor structure for powder coating
Get a Quote for Blasting Services
WHY CHOOSE DUSTLESS BLASTING?
Sandblasting involves directing a high-velocity jet of air that's carrying sand or other abrasive material onto a surface. The abrasive quickly erodes whatever is on the surface, but breaks up on impact to create a cloud of fine dust. This is hazardous to health, obscures the operator's view of the target area, and leaves a fine residue on the surface.
Dustless blasting systems, like the DB800 Blast Pot we use, add water to the jet of abrasive material and air. This stops the dust from becoming airborne and carries it away instead. The air stays cleaner for a safer, more productive working environment, and the equipment operator can see better to perform a more thorough cleaning.
In addition, with no surface residue, the parts need no additional cleaning and there's a stronger bond between substrate and paint or powder coating.
Ask About Dustless Blasting Services
OUR SANDBLASTING & DUSTLESS BLASTING SERVICES
Sandblasting is faster than sanding for surface preparation and eliminates the use of hazardous chemicals. With our DB800 Blast Pot, we can remove contamination like oil and grease and strip old paint to leave metal surfaces ready for painting or powder coating.
Our DB800 works with many different types of abrasive media, from silica sand to walnuts. By matching the media to the material and the cleaning/preparation challenge, we can produce the type of surface desired. From steel castings to thin sheet material, we can clean and prepare it to meet your needs.
Please note that due to transport costs, we only offer sandblasting services in the Mid-Atlantic region, specifically Maryland, Virginia, Delaware, West Virginia, Kentucky, Tennessee, Pennsylvania, Michigan, Wisconsin, and Illinois.
ABOUT WEST RIVER CONVEYORS
Established to provide material handling systems and parts to companies in the mining and related industries, West River Conveyors has expanded to offer fabrication, powder coating, and sandblasting services. Operating out of our large facility in Oakwood, Virginia, we have invested in new and enhanced capabilities that help us meet the needs of our customers.
Call us at 800-332-2781 to discuss your powder coating needs.