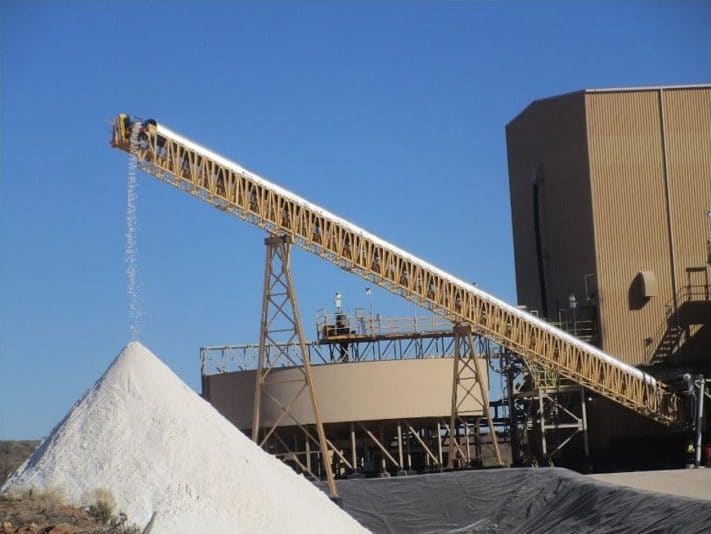 West River Conveyors will design, build, and install a customized radial stacker conveyor system for your material moving operations.
Our high-quality and durable conveyor systems will increase productivity, reduce environmental concerns, and improve your bottom line.
WHAT IS A RADIAL STACKER
A radial stacker is a conveyor built into an inclined rigid truss that rests on wheels. This configuration allows it to rotate freely as it deposits material onto a pile at a rate of up to 1,200 tons of material per hour. Radial stackers are more efficient than wheel loaders or screw conveyors and create less dust and product damage.
Stacker conveyors are ideal for stockpiling many different types of quarry mining, heavy construction, bulk material handling and remediation applications, such as:
HOW DOES A RADIAL STACKER WORK?
The radial stacker raises the material at a grade of up to 20° or more and then discharges it onto the top of the stockpile. Steeper inclines are possible but, depending on material properties, may require a specific conveyor belt design.
The intelligent design solves one of the most common stockpiling challenges. As aggregate stacks get higher, they get more difficult to work with, thereby hindering production and profitability. Radial stacker conveyors fix this problem.
Rotating radially in an arc will allow you to stockpile a significant amount of material in high and wide piles. This will prevent you from having to continuously move the equipment once the pile reaches a certain height.
BENEFITS OF RADIAL STACKER SYSTEMS
An operator can start a new stack by simply repositioning the conveyor head once the stockpile reaches a preferred height. In other words, no more time-consuming halts to relocate equipment.
You'll realize greater uptime, production, and profits with a radially moving stacker. Other benefits include:
Boost Workplace Safety – Your operators don't have to move heavy equipment to continuously create new stacks. This helps lessen the risk of an industrial accident.
Increase Production – Without the shutdowns for relocating a conventional stacker, there's less idle time and more throughput of materials.
Better Business Profits – As throughput goes up, operating costs go down. Radial stackers enable fewer equipment moves, meaning you're on your way to higher profits.
TYPES OF RADIAL STACKER CONVEYORS
The radial stacker conveyor lets you create stockpiles over a broad, sweeping arc. A radial stacker offers better storage density and a wider range of optional features than a standard stacker conveyor.
There are two types of radial stackers extensively used in the industry:
Telescoping radial stacker conveyor
Portable radial stacker conveyor
TELESCOPING RADIAL STACKER
Consider a telescoping radial stacker for even greater storage density and space utilization. A telescoping stacker's discharge point (the head) can extend further from the loading point. This expands the stockpile and reduces the material segregation that occurs when stacking a conical pile.
PORTABLE RADIAL STACKER
A portable radial stacker is suitable for producers who spend time on the road, travel from site to site, or move within a mine or quarry. A portable stacker's tires swivel, switching position to allow for inline travel or radial action. A portable radial stacker may include fixed-width or telescoping axle configurations, depending on the application and size of the stacker.
RADIAL STACKER COMPONENTS
West River Conveyors will design and build a radial stacker conveyor to fulfill your material handling requirements.
Components central to all such conveyors include:
Fabricated truss – The main structural component that supports the conveyor and material load. We engineer the truss to accommodate snow, wind, and other engineering loads.
Radial undercarriage – This allows the conveyor to rotate radially.
Frame-mounted idlers to support the belt.
Conveyor belt – Exact specifications depend on the properties of the material stockpiled
Head section at the discharge point.
Drive unit (mounted at the head and connected to the discharge pulley).
Tail section (material loading point).
Skirting at the tail section and under the truss for protection against falling material.
Optional radial stacker system components include:
A hopper mounted over the tail holds material before belt loading. Some users load directly from an overland conveyor, belt feeder, transfer chute, or Bobcat. We can engineer systems to suit.
Catwalk on one or both sides of the conveyor truss.
RADIAL STACKER CONVEYOR MATERIALS AND DESIGN FEATURES
The truss and related components of a stacker should be made from materials that ensure the lasting durability of the equipment.
West River Conveyors can build your stacker conveyor from:
Galvanized steel
Stainless steel – provides the highest corrosion-resistance
Mild steel – painted for appearance and protection
Aluminum – corrosion-resistant and lighter weight
At West River Conveyors, we pay specific attention to minimizing the effects of dust on moving parts. We select drives, belts, and other components to suit the conveyed material. Troughed belts are ideal for maximum load capacity. Belt speed, width, and stacker length are configured to meet each application.
ABOUT WEST RIVER CONVEYORS
With over four decades of experience, our team appreciates the challenges of conveying abrasive, dusty, heavy, and even potentially hazardous materials. We provide custom conveyor systems and parts to mines, quarries, and many other bulk material operations.
Located in Oakwood, Virginia, we've earned the respect of producers throughout North America. Our team is dependable and knowledgeable. See for yourself, by reaching out to discuss your conveying needs!