Heavy, sharp-edged and abrasive materials can rip and tear surface conveyor belts. For a long life, ensure belt structure and cover material are matched to the material being transported.
In surface mining, quarrying, tunneling or heavy-duty material processing operations the wrong conveyor belt could cost you greatly. Rips and tears caused by aggressive materials, or excessive extension due to high loads, will quickly lead to unplanned downtime.
When matched to the characteristics of the material being transported, a Depreux belt from West River Conveyors will give trouble-free service for the long haul.
Surface Conveyor Belt Construction
A Depreux conveyor belt is made from two layers of durable cover that sandwich the inner construction. The upper layer of the cover needs to stand up to wear imparted by the transported material. The bottom layer requires strength and flexibility to run over supporting rollers and pulleys. The inner part of the belt provides strength and extension resistance.
Covers are either rubber or a shock-absorbing Resorcinol Formaldehyde Latex (RFL)-dipped textile material. A coating of RFL helps textile materials form a durable bond with rubber.
For enhanced impact resistance and rip protection, select from one of three breaker options: steel, fabric or aramid (a Kevlar-type material.) Special covers are available for transporting hot materials.
Belt inner construction is either a multi-ply textile or rubber with longitudinal steel cords.
In addition to cover characteristics, consider:
Tensile strength, in pounds-inch-width (PIW) or N/mm
Length. Depreux belts are available for both short and long-distance applications.
Width. (Widths greater than 1,600 mm are possible by special order.)
Need for good troughing behavior
Depreux Surface Conveyor Belts Offered By West River Conveyors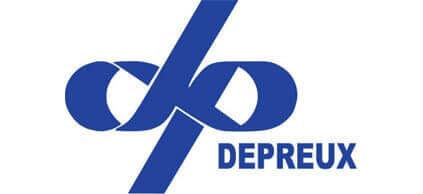 West River Conveyors offers three different types of belt for surface operations.
Intended for use in mining, tunneling, quarry, and heavy-duty processing operations such as steel, cement and power generation, these are:
Delta plied belt
DX/ST steel cord belt
Deltatherm belt
Delta Plied Belts
Engineered for use in quarries, mines, power plants and any other operation transporting heavy, abrasive materials, these belts consist of rubber covers over two to four or more textile plies. Textiles are dipped in RFL before assembly to ensure a strong bond to the rubber.
Benefits of Delta plied belts include:
Tensile strength from 1,400 to 11,000 PIW (250 N/mm to 2,000 N/mm) depending on number of plies
Maximum width: 1,600mm but can be supplied wider for special order
Supplied in 200m rolls (optionally 400m.)
Plies composed of polyester warp and polyamide weft
Can be joined by hot or cold methods or with mechanical fasteners
DX/ST Steel Cord Belt
Composed of steel cables at a constant pitch across the belt, these are preferred for narrow width applications. The cables used are zinc-plated for corrosion protection and feature an open structure that facilitates excellent bonding with the rubber. For additional rip protection, consider adding a textile or steel breaker.
Benefits of DX/ST steel cord belts include:
High strength (from 2,855 to 36,500PIW (500 N/mm to 6,400 N/mm))
Excellent impact absorption characteristics
Good troughing behavior
Deltatherm Belt
These belts are of multi-ply construction with rubber covers. Intended for transporting hot materials, they are fire-resistant and offer good abrasion resistance. Note that they are not intended for operations subject to MSHA Part 14 regulations.
Benefits of Deltatherm belts include:
Transport materials up to 220°C
Multi-ply construction with polyester warp and polyamide weft for maximum strength
Durable surface conveyor belts for tough applications
Reliable Surface Conveyor Belts For Mine Operations
Abrasive materials like clinker, iron ore, quartz, lignite, anthracite, gravel, and sand can damage surface conveyor belts. Selecting the appropriate material and construction ensures a long, trouble-free life and helps prevent unplanned downtime.
The Depreux belts we sell are engineered for the rigors of surface operations. Whether you need high strength, rip and tear resistance, abrasion resistance or the ability to transport hot materials, we have the Cobra America Depreux belts you want.