Take-Up Units
As conveyor systems lengthen, it's necessary to maintain stable tension to prevent belt slippage. Installing take-up units at strategic locations along the conveyor belt provides several key advantages:
Helps prevent excess belt sag
Assists in smoother start-ups by decreasing slippage
Allows for more slack during installation and splicing
West River builds a wide variety of custom take-up units that will assist in keeping your conveyor belts running smoothly. Our 20/40 hydraulic take-up is the most common style. However, we can offer different lengths and configurations based on your individual needs.
Benefits of West River Take-Up Units
Take-up units offer a wide range of benefits for conveyor operators:
Extends the life of conveyor belts
Helps ensure proper belt tension and loading.
Prevents slippage between the belt and drive pulley.
Useful belt storage feature allows for ease of belt splicing (if needed).
Compensates for changes in belt length due to elongation.
Types of Take Up Units
The two main types of take-ups are the automatic gravity take-up (GTU) and manual screw take-up (STU).
Screw take-ups are the most common and work via a rotating pulley inside two bearing blocks. Two screws help create tension and allow the bearing blocks to slide on stationery guideways. They're ideal for short runs under 50m (165 ft) in length. Electric winches offer additional advantages over traditionally hydraulic take up units.
Gravity take-ups have the pulley mounted on a trolley that is pulled backward by deflecting pulleys and a steel rope. The carriage travels parallel to the conveyor—that is, at an incline on inclined conveyors and horizontally on horizontal conveyors. A GTU setup is ideal for runs over 50m (165 ft) and helps ensure constant belt tension.
As an alternative to the cylinder-designed take-ups, some conveyor belt operators use constant tension winches that provide a much quicker response and longer take-up travel.
Take Up Unit Design
West River builds our take-ups with several useful options that include travel length/belt storage and cylinder selections. We use heavy-duty shafts, pulleys, and split-house bearings to ensure long-lasting performance. The durable rigid frames can withstand the most challenging of applications and environments.
West River's competitively-priced take-up units are available in any desired belt width to work with your application. Please contact us below to learn how West River can help with your take-up needs.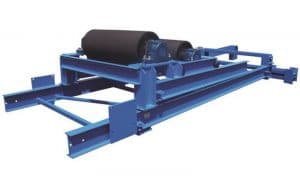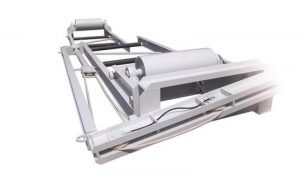 Industry Applications
West River's take up units work well in both underground and overland (surface) conveyor applications.
| | |
| --- | --- |
| Underground Mining | Overland (Surface) Mining |
| | |
Custom Take-Up Units from West River
Help prevent excess belt sag while extending the life of your conveyor belt with a custom take-up unit from West River. Our in-house engineers will work closely with you to help solve your toughest of mining conveyor challenges.