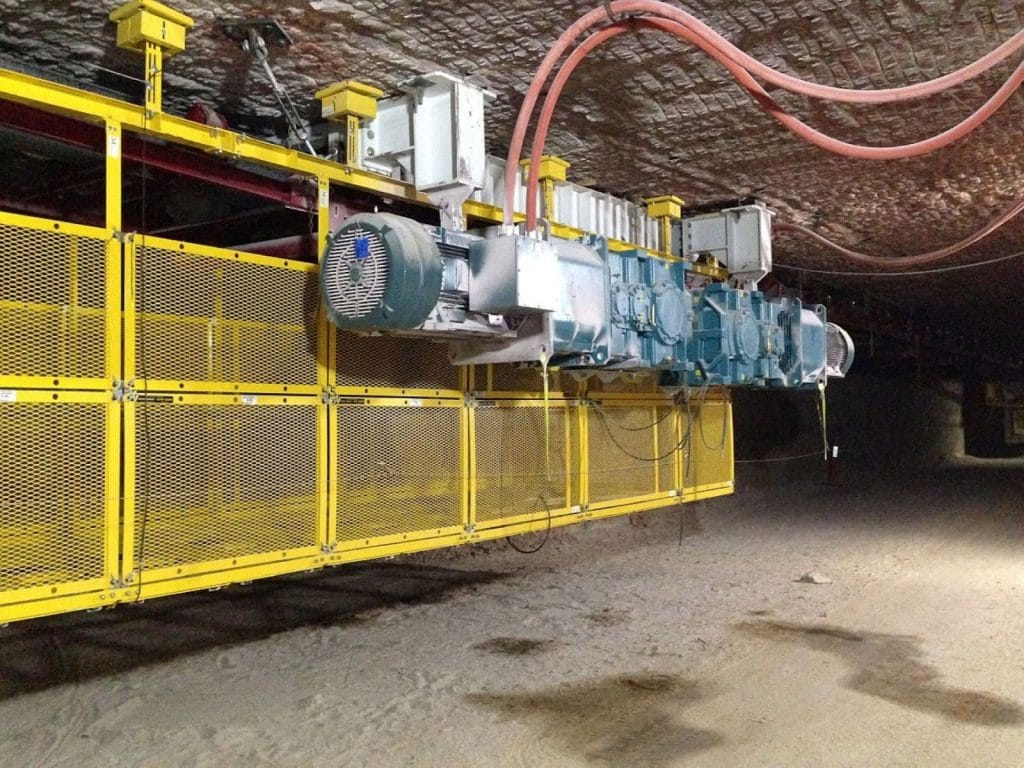 With long runs and uphill hauls, mining is especially challenging for conveyor system operators. Complying with a host of MSHA, OSHA, and state regulations means it's essential to buy and use only high-quality equipment.
Details of underground conveyor applications depend on the material being extracted. MSHA regulations distinguish between coal mines, metal mines, and nonmetal mines. Listed under metal and nonmetal are copper, salt, potash, and trona mining operations. What they all have in common is dust, dirt, confined space, and a need for the highest possible safety and reliability.
West River Conveyors understands these challenges and requirements and can help you obtain underground conveyor equipment that meets your needs.
Underground Conveyor System Components
West River Conveyors can supply conveyor structure, conveyor belts, and terminal equipment for your underground application. We can put together custom packages of underground conveyor equipment compatible with the brands you already have in service as well.
We also perform belt assessments that will identify potential future problems and advise on the right type of conveyor equipment and belt for your application.
Conveyor Structure
Structure for underground conveyors takes three forms:
Rigid rail structure
Catenary structure
Wire rope
West River Conveyors can supply rigid rail structure suitable for either floor or roof mount and in widths from 36 to 72". This is available with load ratings from CEMA B up to CEMA E+.
The catenary structure we offer is also available for floor or roof mounting. This affordable alternative to rigid rail installs faster and offers both convenience and portability. We will build to suit specific requirements or repair or replace existing hardware as needed.
Wire rope structure is portable and installs easily.
Terminal Equipment
Underground conveyor lines are just one piece of a complex system for transporting extracted rock and minerals. Safe, reliable operation requires many other components, including belt drives, winches, power packs, and take-up units.
Using common components in various types of terminal equipment simplifies repair, replacement and retrofit jobs. With deep industry knowledge, our experienced staff can recommend ways of standardizing which will help minimize the range of costly spare parts you need to hold.
Underground Conveyor Belts
West River Conveyors is the exclusive distributor of Depreux underground conveyor belts. For operations subject to MSHA Part 14 regulations we offer Firewall I and Firewall II multi-layer belts and the single-ply Firemaster-PVG textile belt.
An alternative for operations not subject to Part 14 is the multi-ply Deltatherm textile belts.
Underground Conveyor Accessories
Conveyor systems are subject to stringent guarding requirements. We offer a comprehensive range of conveyor accessories including guards to meet your specific needs. Other accessories include scrapers, covers and dust containment systems.
Custom Equipment Packages
Conveyor system operators often need to extend or upgrade existing conveyor systems. Discuss your particular situation and requirements with our highly experienced staff and we'll put together a package that meets your needs and your budget.
Underground Conveyor Belt Assessments
Even if they don't cause accidents, problems with underground conveyor belts can lead to expensive unplanned downtime.
Our conveyor belt assessment reduces these risks by identifying potential issues before they occur and help you find lasting solutions rather than quick fixes. Prevention is always better than cure, and our belt assessment can help you avoid a whole lot of trouble!
About West River Conveyors
Since 1981 we've been providing conveyor systems and products to customers in mining, quarrying and other challenging extractive and material transport sectors. Our relationships with the premier companies and brands in the conveying industries ensure we can provide you with the best possible results and experience.
We're known for being a knowledgeable partner that you can depend on. Put us to the test and call to discuss your conveying needs.