Transfer Chutes
West River Conveyors designs underground and overland transfer chutes that improve material flow efficiency and safety when conveying various products. We can also manufacture standalone transfer chutes and ones that are attached to a discharge boom.
Our chutes range from simple containers to highly complex systems for multiple heights and various angles. Our team of highly skilled engineers will work with you to evaluate your needs and create a chute that meets your exact requirements.
When moving a product from one conveyor line to another, an enclosure is often required to prevent material spillage and potential airborne dust issues. This is why we design and test our transfer chutes in the most demanding of underground applications.
Our chutes are highly effective at protecting their contents and containing them to the flow stream. A standard transfer chute routinely contains heavy, sharp, or abrasive material, so you need to line it with a very tough plate.
Standard plate options include:
Ceramic
Stainless steel
Abrasion-resistant (AR)
Stainless and AR plate liners can be bolted or welded into the transfer chute's frame, providing customers with the option of replacing the liners when needed.
Transfer stations often have a rock box, which is a lip around the bottom of the chute that provides a ledge for rocks and dust to collect. The purpose of a rock box is to prevent the flow of ore from wearing out the bottom of the transfer chute.
TRANSFER CHUTES OVERVIEW
Transfer chutes are primarily used at the transfer points in a conveyor system. Therefore, they need some type of feature, such as a rounded base that will allow the chute to discharge its load into a centralized stream in the same direction as the receiving conveyor.
The simplest conveyor system with a transfer point consists of two conveyors. Ore comes from a draw point such as a bin or stockpile. The first conveyor transports the ore to the transfer chute, which will transfer it to the second conveyor.
This type of transfer chute typically has no moving parts, but it must place its contents in the center of the belt. Failure to do so can result in spillage below.
Conveyor systems become more complicated when they use variable paths requiring multiple chutes that require a greater vertical distance.
These systems divide the bulk material with multiple diverted discharge points, which an operator can control with butterfly valves. The cross-section design is essential for switchable transfer chutes since blockages are more likely than with simpler chutes.
Furthermore, packing becomes a more serious concern for longer chutes due to the greater difficulty of cleaning them and preparing them for operation.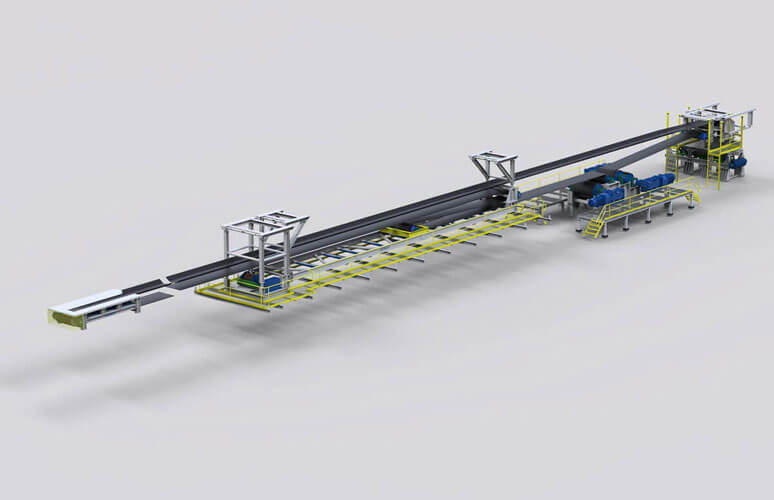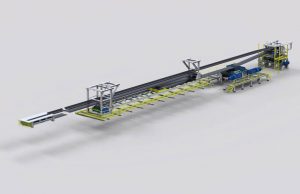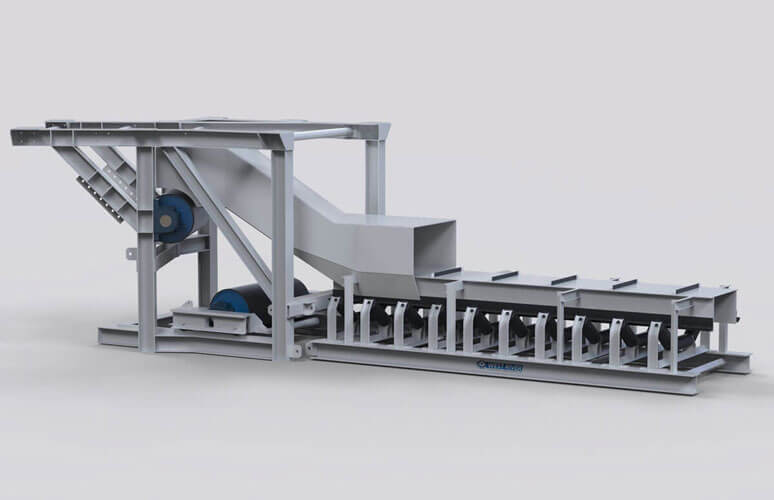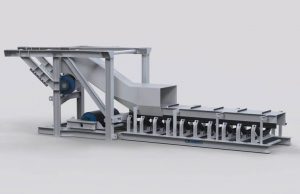 Need to replace a Transfer Chute? Contact Us
Belt Feeders
Belt feeders utilize hoppers or bins to introduce material into the conveyor system at a controlled feed rate. This helps ensure the optimal flow of material to downstream equipment. Feeders come in a wide variety of capacities and can handle a diverse range of materials.
Belt feeders generally consist of the following parts:
Feed Hopper
Impact Idlers
Discharge chute
Skirtboard
Tail pulley/takeup
Drive/Head pulley
Loadout Conveyors
Loadout conveyor systems help improve both efficiency and safety. There are several different types of loadout conveyor systems, such as:
Ship loading—Demurrage fees are one of the greatest expenses of a ship. Loadout conveyors help cut down on time spent loading while eliminating dust emissions.
Railcar loading—Much like ships, railcars require a loading system that can quickly fill up the boxcars while at the same time helping reduce dusting.
Truck loading—Depending on the type of material, a loadout conveyor will load material into an open or enclosed truck. Control valves, positioners, and loading spouts all help achieve maximum efficiency.
Barge loading—Loading materials, such as Fly Ash or cement into barges, require loadout conveyors to lessen hatch cover removal times and eliminate dust.
ROCK BOXES
A rock box directs the ore flow to land in the center of the conveyor belt each time. It also prevents the ore from damaging or wearing out the bottom of the transfer chute. Otherwise, it could change the trajectory of the material. The rock box allows the rock on top of it to absorb the abrasion caused by the moving ore.
However, a rock box can't prevent ore from hitting the side of the transfer chute before it reaches the rock box. This problem is generally the result of differences in the size of rocks and the speed of the feeder belt, which alters the ore trajectory and causes the ore to hit the chute in different locations.
LINERS
AR liners use steel with a high carbon content, which thereby increases the hardness. However, the carbon also makes the liner much more difficult to weld, so they're usually bolted in place. We utilize UHMW liners fastened to the inside of the chute as additional protection.
One of the advantages of bolts is that they indicate that the liner is wearing out. The bolt heads protrude from the surface of the liner, causing them to wear out first. The bolt will fall out when this occurs, thus alerting an operator to replace the liner before the transfer chute becomes damaged.
Multiple missing bolts along the conveyor path could indicate that a liner has fallen out, which is a considerably more serious problem than a liner that's merely worn. A loose liner can damage the conveyor belt or plug a chute, so you need to locate it immediately.
SKIRTING
The chute skirting is a seal between the chute and the conveyor belt, primarily to prevent material from bouncing and rolling off the belt during loading.
The skirting is made of rubber and runs entirely around the edge of the chute except for a discharge point. It's an area of high wear because neither the belt nor the skirt can have lubrication on them.
The operator should continually monitor the skirt's condition and adjust it as needed to prolong its lifespan, as this adjustment is critical for the chute to operate properly.
Skirting that's too loose will result in product spillage, while adjusting the skirting too tightly results in faster wear.
Transfer chute designs typically have multiple safeguards to help keep a conveyor system operating as intended. These safeguards address equipment failure and operator error issues, both of which are common causes of conveyor system outages.
TRANSFER CHUTES FOR THE MINING, TUNNELING, QUARRY, AND HEAVY-DUTY PROCESSING INDUSTRIES
West River Conveyors is a leader in mining conveyor equipment including, transfer chutes, fluid couplings, conveyor discharges, and more. We offer competitive pricing on new Transfer Chutes. Contact Us today to learn more.