Underground conveyor belts endure extremely harsh conditions. High temperatures, heavy loads and long runs mean strength, durability, and conformance to fire regulations are paramount.
Underground Conveyor Belts Meeting International Standards For Fire Protection
Fire is one of the biggest risks in mine and tunnel operations. The fire-retardant underground conveyor belts we carry meet a long list of regulations developed to protect workers and physical assets.
Fire-retardant Depreux belts comply with MSHA, CAN and ISO standards, so whatever jurisdiction your operation comes under, you can be confident in the protection they provide.
Underground Conveyor Belt Construction
Most underground conveyors are kept as narrow as possible, running at high speed for maximum capacity. However, for operations that can use greater widths, Depreux conveyor belts are available in widths up to 84".
Tensile strength is another vital parameter for conveyor belts. Belt failure is very dangerous and will result in expensive downtime. That's why it's essential to use belts exceeding strength requirements determined by calculation or measurement. Depreux underground conveyor belts are available with pounds per inch width (PIW) ratings from 150 to 3,200 PIW.
Underground conveyor belts are produced in three different constructions:
Multi-ply
Straight-warp
Steel-cord
Constructed from multiple fabric layers separated by rubber, multi-ply belts have good impact resistance and long life expectancy.
Straight-warp conveyor belts are woven from thick twisted aramid yarn. Aramid is a type of exceptionally strong synthetic fiber. It's often referred to by one of it's trademarked names such as Kevlar. These conveyor belts have exceptional resistance to tears and impact damage. Tensile strength is comparable to that of multi-ply belts.
Steel-cord designs have, as the name implies, steel cords that run the length of the belt. There is no weft although there may be a steel or textile breaker in the top layer to increase tearing resistance. Their tensile strength exceeds that of multi-ply and straight-cord belts.
Depreux Underground Conveyor Belts Offered By West River Conveyors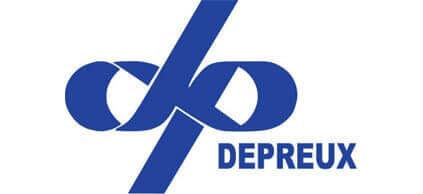 West River Conveyors is the exclusive distributor of Depreux underground conveyor belts from Cobra America. These fire-resistant belts are engineered for dependable performance in the most hostile mining and tunneling environments. If you operate in these industries, this is the reliable, durable product you need.
Underground conveyor belts we carry include:
Firewall I and Firewall II
Deltatherm
Firemaster-PVG
Firewall I and Firewall II
Firewall I and Firewall II are multi-ply belts engineered for use underground. Firewall I belts have a Chloroprene Rubber cover while Firewall II is covered with Nitrile Rubber / NBR. Rubber interlayers between fabric plies provide a shock-absorbing ability.
Benefits of Firewall I and Firewall II include:
Meet MSHA Part 14 regulations for fire resistance
Available in up to 60" widths (wider on request)
Tensile strength up to 1,400 PIW
Deltatherm
Similar in construction to Firewall I and Firewall II, Deltatherm belts are for operations not subject to MSHA Part 14 regulations. The belt is however still fire-resistant and offers good abrasion resistance.
Benefits of Deltatherm include:
Textile belt with multi-ply construction
Transport materials up to 220°C
Firemaster-PVG
The Firemaster-PVG is a single-ply textile belt with an outer layer of rubber or PVC. A notable feature of this belt is that it needs less power to run than an equivalent steel-cord belt.
Benefits of Firemaster-PVG include:
Fire-resistant
Meets MSHA Part 14 standards
Tensile strength up to 2,200 PIW
Available in widths up to 72"
Tough Underground Conveyor Belts For Demanding Environments
Strength, impact absorption, wear, and fire resistance are critical characteristics in an underground conveyor belt. Through our partnership with Cobra America, we're able to offer Depreux belts that deliver on all four.