Rollers & Idlers
West River carries a variety of rollers and idlers, so you can spend less time worrying about your conveyor's performance, and more time running your operations out in the field.
At West River Conveyors, we offer CEMA B, C, D, E and F idlers to suit both overland and underground applications. Our rigid rail idlers, inline structure, catenary idler structure, transitional and other specialty engineered idlers can accommodate belt widths from 24 to 72 inches, although additional sizes are available. We also work with reputable brands for rollers and idlers.
Call us today @ 800.332.2781
Conveyor Rollers & Idlers For Peak Performance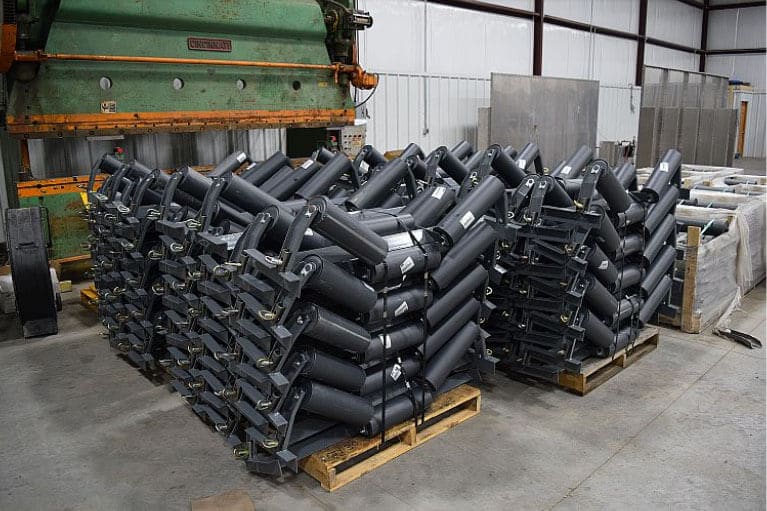 Bearing integrity, can durability, low shaft run-out and effective seals are the four major components that any good conveyor roller and idler should deliver. Turn to our line of products to achieve these features for seamless conveyor operation.
Learn more about conveyor structure
Steel tube rollers are the most common types of idlers that you'll find on conveyors in the mining industry. All of West River's idlers are designed to meet or exceed the load limits established by CEMA.
If your conveyor is working in demanding applications and needs to conform to CEMA standards, West River can provide:
Industry leading idler brands with West River's frame workmanship
Idlers and structure that are ideal for harsh mining environments
Idlers that are best for underground conveyor applications
Idlers that utilize the best ball bearing technology
Idlers that have low Total Indicated Runout (TIR)
Idlers that have superior sealing systems
Do your current rollers and idlers stack up?
West River Conveyors: Where Strength & Reliability Meet
At West River, we carry rollers and idlers in all different types and sizes so you can ensure you're able to find the right product for your application.
Products we supply come from the most reputable, high-quality brands and are offered to you at fair, affordable prices.
If you need assistance or more information to determine which types of rollers and idlers are best for your conveyor application, don't hesitate to get in touch with one of our qualified representatives for help.
For availability and pricing on our online inventory of rollers and idlers, please call 800.332.2781 or Contact Us today.