Fluid Couplings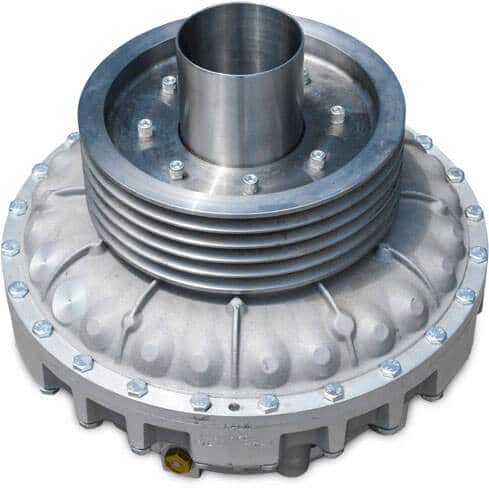 Choose from a range of new, used, and rebuilt Falk and Voith fluid couplings with a variety of connection types, motor bores, and reducer bore sizes.
Check out our current inventory for a full list of products that we carry. We constantly update our in-stock inventory models so check back periodically to see what we have available.
If you can't find your specific fluid coupling, contact us or call 800.332.2781.
Need a Fluid Coupling Part Manual? Download one here.
Warranty: Manufacturer's warranty and/or 1 year warranty on workmanship.
Fluid Couplings Overview
A fluid coupling, or a hydraulic coupling, is a hydrodynamic device that transmits rotating mechanical energy between two axes, or drive shafts. They're used to gently accelerate belt drives.
Fluid couplings:
Limit torque
Provide load sharing upon start-up, allowing for a soft start
Dampen torsional vibrations
Couplings increase your conveyor system's overall productivity and longevity. Maximum energy savings is also achieved when fluid couplings are used, due to current peak reduction.
In today's industry, fluid couplings are mostly used in heavy industry and marine applications, although fluid couplings were also used in automotive transmissions and electric motors until the late 1940s.
The primary advantage of a fluid coupling is that it allows the operator to change the speed of the power transmission without shock loading it. Couplings can provide overload protection to power transmissions.
Work with West River Conveyors
At West River Conveyors we always offer up-to-date stock and information on all parts that we carry in our warehouse. We are located in Oakwood, Virginia, but can ship fluid couplings and other parts across the nation. Our customer service is dedicated to listening to your needs and providing fast, reliable products to your job site.
If you are looking for a specific product or fluid coupling, contact West River Conveyors today. You can place an order online or call us directly at 800.322.2781.