Powder coating will extend the life of your fabricated steelwork, and keep it looking better for longer. Unlike paint, powder coating forms a thick polymeric skin that bonds to the underlying steel. It's impervious to water and most chemicals are highly scratch and chip resistant.
Let us give your steelwork the powder coating treatment and you won't have to endure it blistering, lifting, and letting rust get started the way paint does.
West River Conveyors powder coats steel fabrications on-site in our Oakwood, VA facility. Ask about powder coating the fabrications we build for you or bring yours to us for coating.
Ask About Powder Coating Services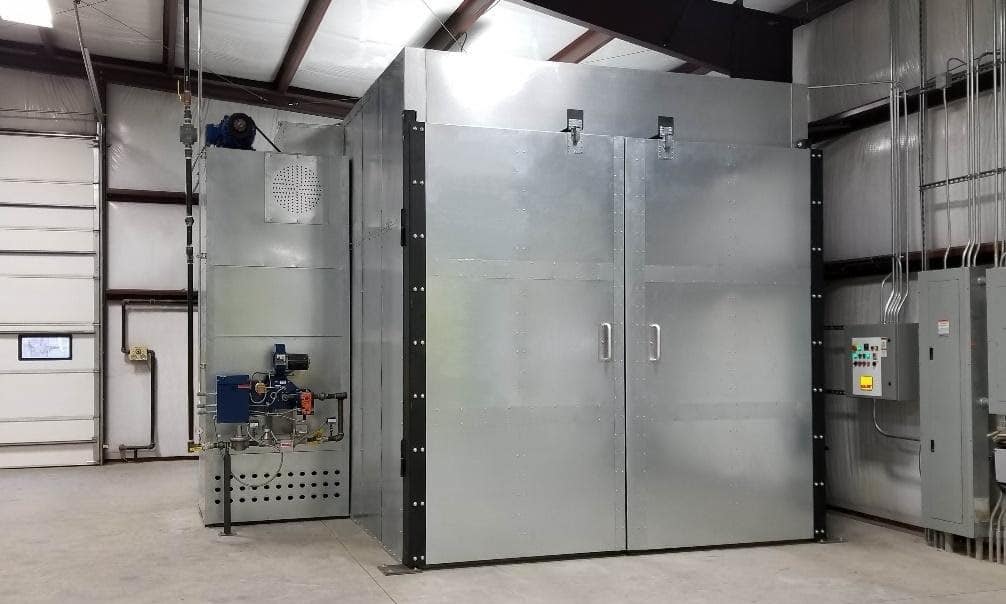 OUR POWDER COATING CAPABILITIES
Our powder coating process consists of prepping, spraying, and curing. Prep means cleaning to maximize electrical conductivity and ensure a strong bond between powder and steel. It's followed by mounting the fabrications on special racks and wheeling them into our curing oven.
Powder is applied with electrostatic spray guns. These give the powder an electrical charge as it's propelled towards the fabrication. Applying an opposite charge to the steelwork draws the powder onto every exposed surface, even those not directly in line with the spray gun.
The last step is to cure the powder onto the steel. This happens in our specialized modular powder curing oven. Hot air circulates over and around the coated parts, baking the powder onto the underlying metal.
Get a Quote for Powder Coating
ADVANTAGES OF POWDER COATING
A powder coating is tougher and more durable than paint. Plus, electrostatic spraying helps ensure there are no areas where coating is too thin or nonexistent. This means you can expect powder coated steelwork to last longer, and it won't need painting every few years, or more often if it's deployed to the coast or an area of high humidity.
Other things we like about powder coating:
No solvents
Clean process
Minimal waste
Why stick with painting? Powder looks better, lasts longer, and needs little to no maintenance.
If it's got your name on it you want to look good, not just when it's new but for years to come. Powder coating prevents ugly rust stains and streaks, and modern formulations are highly UV resistant so fading isn't noticeable for years.
Something else that's important: you can have a powder coating in just about any color you want. White is a popular choice, but if you have a preferred color scheme, ask about powder coating in the same shade.
Ask About Powder Coating Capabilities
OUR POWDER COATING SERVICES
We can powder coat large and small steel pieces in our full gas powder curing oven system. Our service area is the Mid-Atlantic region, including Maryland, Virginia, Delaware, West Virginia, Kentucky, Tennessee, Pennsylvania, Michigan, Wisconsin, and Illinois. Size and weight usually make it uneconomical to ship further afield.
Powder coating can be applied to many industrial products including automotive, appliances, building construction, electrical components, machine parts, heavy equipment and lighting.
If it's metal and it fits in our oven we can powder coat it! Ask for details.
ABOUT WEST RIVER CONVEYORS
Though it's used on all types of fabricated steelwork, our investment in powder coating equipment was primarily to support our conveyor manufacturing business. Since 1981 we've built high-quality conveyor systems for clients in industries like mining, quarrying, ports, and power generation. Powder coating adds to our conveyor capabilities and helps ensure the systems and components our clients buy will outlast those from competitors.
Call us at 800.332.2781 to discuss your powder coating needs.