DIRT CONVEYORS | WEST RIVER CONVEYORS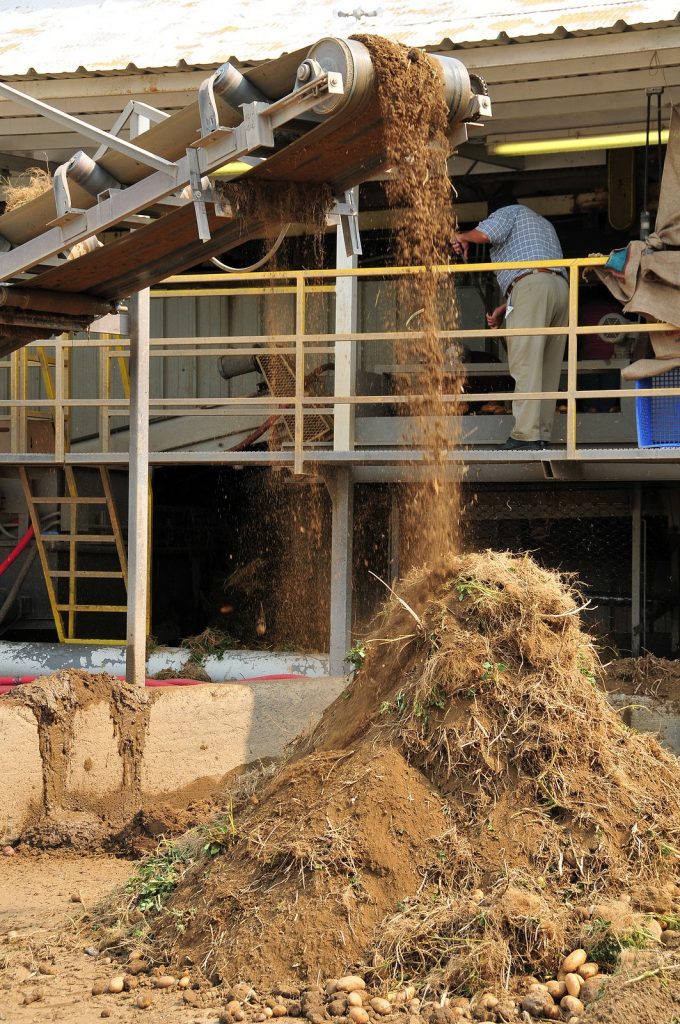 Dirt conveyors are for short duration jobs that involve moving dry soil, aggregate, sand, or gravel, even wet slurries, and mud. They're fabricated in narrow widths and short lengths to access confined spaces and may be mounted on a wheeled undercarriage for mobility. Longer distances are easily covered by cascading from one conveyor onto the next. Cleats or buckets on the belt prevent material rollback.
A dirt conveyor will move more tons per hour than you could achieve with wheelbarrows and require a fraction of the labor. If you're looking for a way to get a project finished faster, a dirt conveyor may be the tool you need.
Applications for dirt conveyors include:
Excavating pits, trenches, or basement spaces
Moving fertilizer or grain in and out of storage bins
Taking sand and gravel to locations lacking truck access
West River Conveyors are experts in building systems for conveying wet, dry, heavy, and abrasive materials in places like mines, quarries, ports, storage yards, power plants, and construction sites. We engineer our custom dirt conveyors to suit your needs, build them from quality materials, and source components from industry-leading manufacturers.
CUSTOM DIRT CONVEYOR PACKAGES
A dirt conveyor can move from 25 to 50 tons/hr depending on width. Shorter conveyor lengths offer superior mobility, especially when mounted on a wheeled undercarriage. Reduce side spills with troughed belts or ask about side extensions.
West River Conveyors can prepare a custom package meeting your requirements for a dirt conveyor. This will address:
Width and length required
Belt construction (including covers and cleats/buckets)
Drive system
Motor phase and voltage
Motor size and mounting location
Undercarriage
Get A Custom Dirt Conveyor Quote
DIRT CONVEYORS ACCESSORIES
Accessories can improve productivity and safety while boosting the ROI of your dirt conveyor. Examples include:
Loading hoppers
Tow hitches (for conveyors mounted on a wheeled undercarriage)
In addition, with our years of conveyor manufacturing experience, we can accommodate requests for unique or unusual features that will increase the utility of your dirt conveyor.
Call 800.332.2781 to discuss available accessories or special requirements. 
DIRT CONVEYOR REPLACEMENT PARTS
We offer a variety of conveyor system replacement parts. These parts enable your conveyor equipment to deliver the results you expect over a longer period of time.
Types of replacement parts:
Backstops — We offer brands like Falk, Formsprag, McNally Pittsburg, Marland, and Ringspann. These backstops come in a variety of models and bore sizes.
Bearings — Pillow block, taper lock and flange, two or four-bolt design, split or solid-housing styles. From brands like Dodge and SKF with sizes that vary from 2 7/16" to 12 ½".
Conveyor belts — We offer surface conveyor belts from Cobra in RMA II and various rubber compounds, including high temperature rated rubber.
Couplings — fluid, gear, grid, elastomer, flexible disc and wrapflex couplings. From brands like Voith, Falk, Rexnord & Kraftpower.
Dust Containment — Solutions offered from Martin Engineering and custom designed tail sections built by West River Conveyors.
Gear Boxes — We offer new & used gear boxes and reducers. From brands like Falk, Rexnord, Dodge, Philadelphia, Worldwide, Link Belt, Stamler, and Browning.
Loading Sections — These components absorb material as it falls through the chute or discharge. We carry standard loading sections from Martin Engineering and Richwood, and custom designed loading sections built by West River Conveyors.
Motors — Our AC motors come from Reliance-Baldor-Dodge & Worldwide Electric. Choose from 5-300 horsepower with custom RPM.
Pulleys — New and used head, bend, snub, take-up, tail, drum & other pulleys.
Shaft mount reducers — We offer reducers in a variety of belt widths, horsepower, and voltage.
Scrapers — These components scrape material off of the belt using Carbide or Urethane blades. From brands like Martin, Fenner, K Dolan, Flexco, ASCGO and Richwood.
Sheaves — Are common power transmission components at the belt drive. From brands like Baldor, Martin Sprocket, and various others.
Reducer Gearing — We carry components from Dodge, Falk, and Sumitomo in a variety of models and teeth sizes.
Rollers & Idlers — CEMA, B, C, D and E Inline, Training, Return & Retro roll idlers offered from PPI.
We offer quick turnaround on most parts and can consult with you to determine which specific part is the right component for your equipment. If you don't see your part listed, still check with us as we may be able to obtain the part for you.
In order to expedite the delivery process, please provide the following information when placing an order or requesting pricing:
Conveyor system model or type
Part description
Part model number, or part number
Part serial number
Call 800.332.2781 or Contact us online if you need a dirt conveyor system replacement part.
ABOUT WEST RIVER CONVEYORS
Dirt conveyors save time and money on construction sites, in storage yards, on farms, and in mines, ports, and quarries. Whenever there's a need to move dirt, aggregates, or granular materials like fertilizer and grain, a dirt conveyor can get the job done faster.
West River Conveyors has been building high-quality conveyor systems since 1981. Today we have more than 125,000 square feet of manufacturing and warehouse space on our large site in Oakwood, Virginia. While ideally located to meet the needs of the mining industry, we serve customers from coast to coast and further afield.