West River Exhibits at Coal Prep Show in Lexington, Kentucky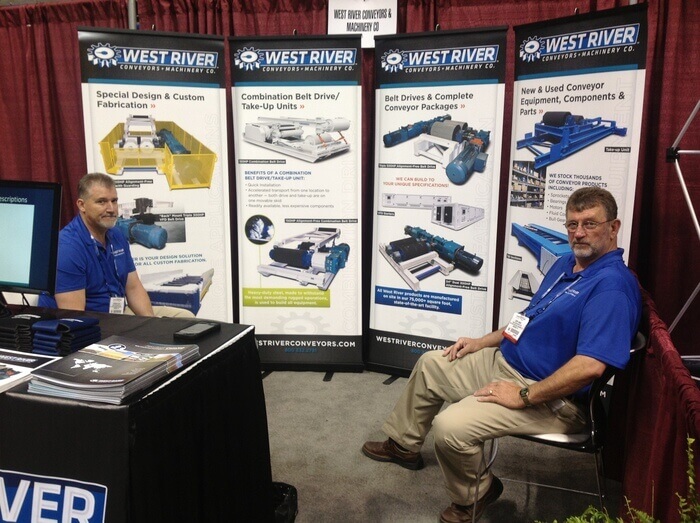 Our sales team exhibited at the annual Coal Prep Show last week on April 29-May 1. This show is the only annual trade show and conference in the United States dedicated to coal preparation and processing. The jam-packed exhibit hall featured suppliers from across the country from manufacturers to construction to coal purchasers. The workshops and conference sessions were geared towards coal preparation techniques and processes and the factors that influence their performance.
Richard Calfee, Sales Representative for West River Conveyors noted "the show was a great opportunity for our sales team at West River to make some new contacts, gain some new leads, and spend some time with our existing customers in a more relaxed atmosphere." Many existing customers were available to discuss further expansion plans, additional needs for their operation and more.
Pete Savage, Account Manager for West River Conveyors added that being able to exhibit at a conference with a reputation like Coal Prep is "a great way to maximize our time and money spent. It gave us a way to personally invite folks to our booth and also meet face to face and shake hands with decisions makers who may otherwise never be available."
West River Conveyors has spent the greater part of the last year focusing on increased exposure, brand awareness, and educating customers and prospects about products offered. West River has recently began expanding their product line to include different types of state-of-the-art conveyor equipment like VFD belt drives and starters and the popular alignment-free conveyor. Jessica Savage, Marketing Manager for West River, added that "having the ability to showcase our product brochures, pictures, and share information with many people at one time is invaluable in making purchasers and decision makers aware of our brand and the quality conveyor equipment that we can provide."