West River Invests in PCR42 Structural Steel Plasma Cutting Robot
Robotics has long dominated the manufacturing industry but is traditionally less common in structural steel fabrication shops. This is mainly due to the customized nature of the projects that come out of these operations.
When people think of robots in the manufacturing world, it's often for repetitive tasks, such as auto assembly lines. With recent advances in robotics technology, that is no longer the case. The West River Conveyors management team recently decided to move into automation to address a couple of key issues:
1. Fabrication of jobs with more accuracy, speed, and efficiency
2. To be more competitive in our markets
West River Conveyors is a leading structural steel fabrication shop focused on delivering high-quality conveyor products and systems to the mining industry and beyond.
We have traditionally used manual processes for all saw cuts, layouts, and drilling on steel beams. This is a very labor-intensive process as manufacturing of conveyor products requires hundreds of precisely drilled holes and cuts into the steel.
West River can deliver the perfect combination of speed, precision, and full four-face cutting thanks to the state-of-the-art Prodevco PCR42 advanced plasma steel cutting robot.
The PCR42 Advantage
PCR42 reads detailed files and can cope, make bolt holes, slots, notches, prep marks for connection plates, fish mouth cuts, and saddle cuts. Its cutting envelope covers all four faces of steel profiles, thereby allowing for a hollow structural section (HSS) cutting in a single pass and marking on all four sides.
"The beautiful thing is that there's no external tooling or setup required," said Eric Alsup, Principal Engineer for West River Conveyors. "There's no need to take measurements or frame it."
"There's also absolutely no additional cost in doing one-off cuts, which is the majority of what is done in our line of work," he continued. "The cuts are always exact, and the robot will allow us to control our cost even when the parts and industries differ. The capabilities are unlimited."
Streamlining Pre-Fabrication Processes
PCR42 uses West River's 3D Solidworks software to prepare trajectories needed for the cutter. The robot includes a 3D vision system with smart technology that measures the actual dimensions of the part and compensates automatically for any variations in material. This new plasma cutting robot will revolutionize West River's ability to produce products efficiently and at a competitive price.
"The time is now to move to automation and work towards streamlining our pre-fabrication processes," said Pete Savage, VP of Business Development. "We've studied and learned that this move will position us to serve our customers better and also help us get into other industries as well."
West River Conveyors is a leader in custom-designed and custom-built above-ground and underground conveyor systems.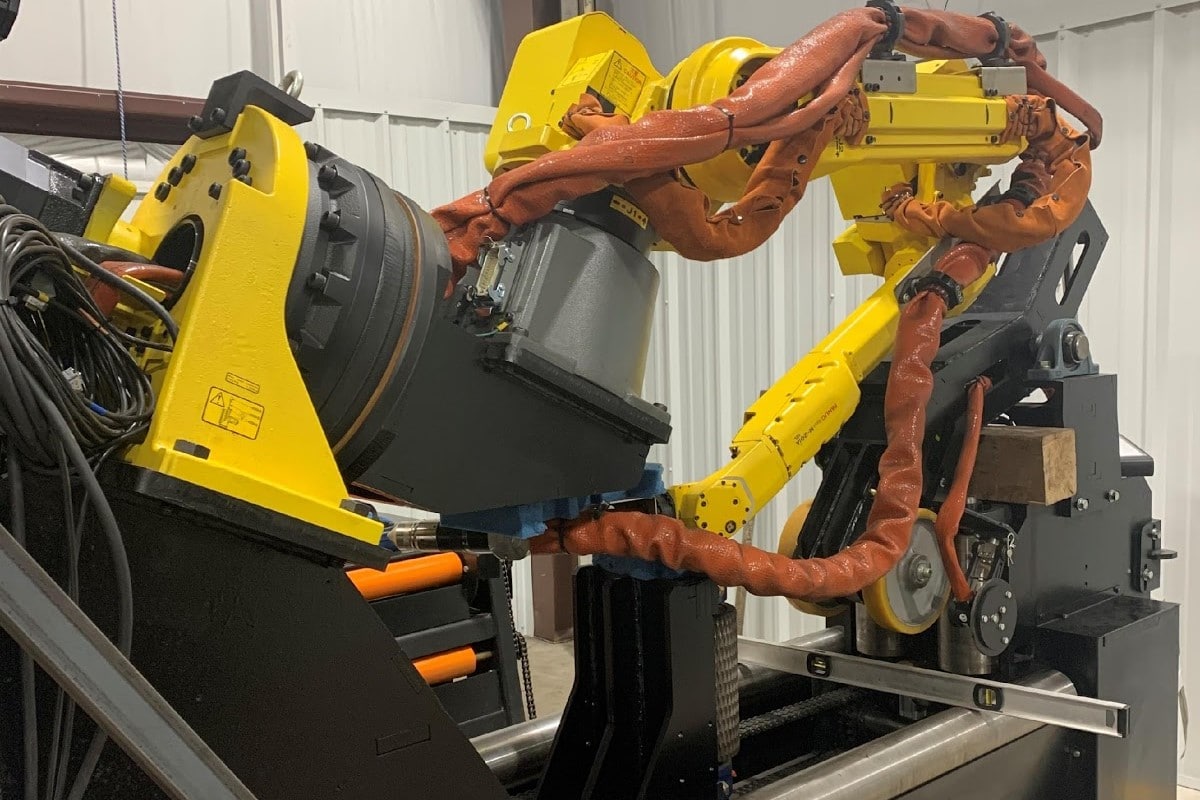 Structural Steel Fabricators
In addition to manufacturing our conveyor belt systems, West River Conveyors will also perform non-conveyor equipment fabrication. We can provide structural steel fabrication for the following industries:
Ship Building
Construction (including bridges & road work)
Transport
Mining
Energy
Packaging
Many more!
Located in Oakwood, Virginia, West River Conveyors is ready to start fabricating steel projects for companies in the following states: WV, VA, KY, TN, NC, PA, MD, DE, MI, WI, IL. This close proximity allows for shortened transportation times from the West River manufacturing facility to your business or job site.