Company Representatives Attended the Annual CIM 2014 Convention in Vancouver, British Columbia on May 11-14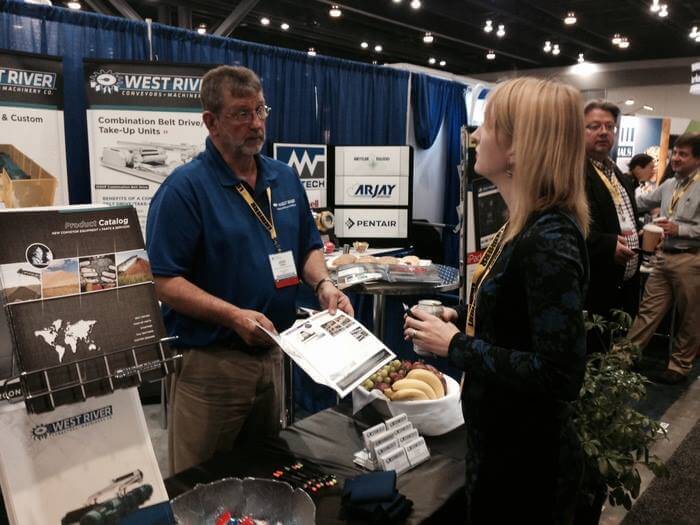 The CIM 2014 Convention, held annually in different locations across Canada, caters to minerals, materials and petroleum industries and professionals worldwide. CIM was founded in 1898 and is the leading technical society for professionals working in minerals, materials and petroleum in Canada. The membership includes over 14,600 international members. West River's interest in attending the show, which attracts more than 6,000 attendees from around the globe, was to make their brand known in Canada and share information about their conveyor products to decision-making attendees.
West River Conveyors sales representatives Jerry Jones, Richard Calfee, Pete Savage, and Joe Street were on-hand to discuss the company's sophisticated products and possible vendor partnerships in the Canadian mining market. West River was able to connect with already established U.S. vendors who have previously-established relationships with customers in Canada. Joe Street, VP Sales said "although we are already selling to the Canadian mining market, we want to sell more. We are very eager to assist new and larger companies with their conveyor product needs and be able to show them the quality and level of customer service that we can provide."
Pete Savage, VP International Sales for West River said "the more opportunities that we have to get our name out there internationally, the better off that we will be. We made some excellent contacts and gained a wealth of knowledge about the mining market in Canada." In addition to the excellent meetings and networking at the CIM Convention, the team was able to meet with representatives from the Saskatchewan Ministry of the Economy to discuss long-term goals in Canada. Savage adds "we are getting closer and closer to having new doors opened for us. The show provided us with excellent contacts that have already turned into some new business relationships."
To view more photos and learn more about their visit to Canada and CIM 2014 Convention, click HERE.