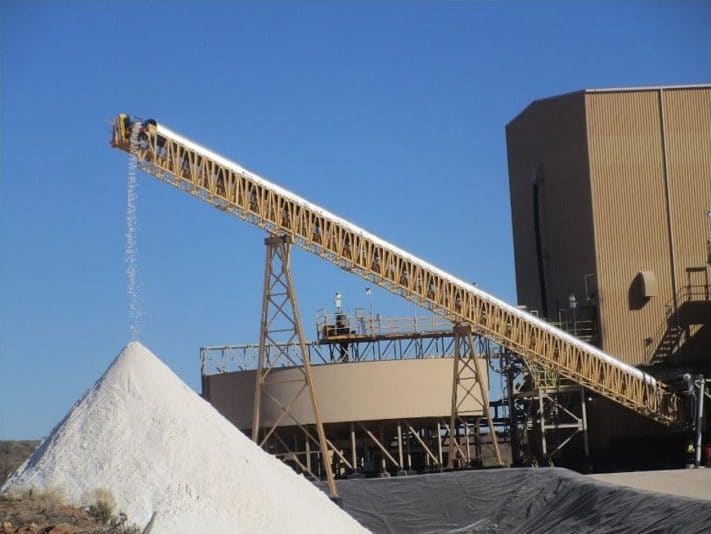 A stacker conveyor is essential for stockpiling aggregates of any kind. More efficient than wheel loaders or screw conveyors, with less dust and reduced product damage, a stacker conveyor moves up to 1,200 tons per hour of material into a stockpile.
A stacker conveyor consists of a conveyor installed into a rigid truss. Inclined upwards by as much as 20°, this raises material from the base and discharges it onto the top of the stockpile. (Steeper inclines are possible but depending on material properties, may require specific design of the conveyor belt.)
Three widely used variants of the basic stacker conveyor are:
Radial stacker conveyor
Telescoping stacker conveyor
Telescoping radial stacker conveyor
As conveyor specialists, West River Conveyors has the materials handling expertise to design and build a custom stacker conveyor that meets your needs. Whether you're stockpiling coal, coke, rock, sand, gravel, trona, potash, nickel, topsoil or even mulch, a stacker conveyor from West River Conveyors will simplify your material handling and storage.
Types of Stacker Conveyor Systems
The conventional stacker conveyor creates a conical stockpile. In many applications, this is all that's needed. For increased storage density, better space utilization and less material segregation, consider a radial, telescoping or telescoping radial stacker.
Radial stacker conveyors move the discharge point through an arc to create a radiused stockpile. A telescoping stacker conveyor can extend outwards to move the discharge point further from the loading end. A telescoping radial stacker conveyor combines both to create the largest possible stockpile of material.
Telescoping stacker conveyors are particularly effective for minimizing the material segregation that results when discharging onto a conical stockpile.
Stacker Conveyor Components
West River Conveyors will design and build a stacker conveyor to your requirements.
Core components common to all such conveyors include:
Fabricated Truss – This is the main structural component that supports the conveyor and material load. We engineer to accommodate snow, wind, and other engineering loads.
Frame-mounted idlers to support the belt
Conveyor belt – exact specifications depend on properties of the material being stockpiled
Head section at the discharge point
Drive unit (mounted at the head and connected to the discharge pulley)
Tail section (material loading point)
Skirting at the tail section and under the truss for protection against falling material
Optional stacker conveyor system components can include:
A hopper, mounted over the tail, that holds material before belt loading. Some users load directly from an overland conveyor, belt feeder, transfer chute or Bobcat. We can engineer systems to suit.
Catwalk on one or both sides of the truss
Stacker Conveyor Materials and Design Features
For long life, the truss and related components should be fabricated from materials appropriate to what's being stockpiled.
West River Conveyors can build your stacker conveyor from:
Galvanized steel
Stainless steel – provides the highest corrosion-resistance
Mild steel – painted for appearance and protection
Aluminum – corrosion-resistant and lighter weight
Drives, belts, and other components will be selected to suit the material being conveyed. We pay particular attention to minimizing the impact of dust on moving parts.
Troughed belts are preferred for maximum load capacity. Belt speed, width, and stacker length are all configured to meet the specific application.
About West River Conveyors
Located in Oakwood, Virginia, we supply conveyors and conveyor parts to mines, quarries, and other bulk material handling operations throughout North America. With four decades of experience, our team understands the challenges of handling abrasive, dusty, heavy and even potentially dangerous materials, and designs custom systems to suit.
We're known for being a knowledgeable partner that you can depend on. Put us to the test and call to discuss your conveying needs.