3D scanning is a new solution to an old problem. When detailed drawings of a room, space, or installed equipment aren't available, you have to create them by measuring and drawing. It's a slow process that's rife with errors unless you have access to 3D scanning services.
If you need accurate drawings of buildings or machinery you're adding-on to, or space where equipment will be installed, let us help. With our Mantis Vision F6 handheld scanner, we can create highly accurate 3D CAD models that will save you time and help avoid mistakes.
Ask About 3D Scanning Services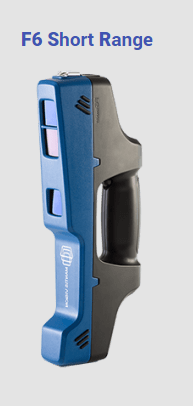 OUR 3D SCANNING CAPABILITIES
Creating a precise CAD model starts by scanning the equipment or space. It's like painting with infrared light: as our technician sweeps the invisible beam over the surface to be captured, a camera captures a mass of coordinate data. Next, we convert this "point cloud" into a format that we read into Solidworks, and then save it as a file that we or you can use in the design project.
Our Mantis Vision F6 scanner has a range of many feet so we don't need to get up close to what's being scanned, and its accuracy is better than 0.040" (1 mm). It even has a color camera that captures the exact hue of what's being scanned, so that can be included in the model too if needed.
ADVANTAGES OF 3D SCANNING
3D scanning is the 21st Century replacement for levels and tape measures. It's:
Faster
More Accurate
The source for precise 3D CAD models
A way of avoiding expensive mistakes
If you need to add on to existing equipment or fit new equipment into an existing space, 3D scanning is the only practical way to capture the dimensions and placement of what you're working with. Far more accurate than alternative methods, it avoids the delays, expense, and general fudging around of making modifications so things fit.
Ask About 3D Scanning Services
OUR 3D SCANNING SERVICES
West River Conveyors invested in 3D scanning technology because we needed a better way to document the locations and equipment we install into and add on to. Now we're making that technology plus our experience available to others who need accurate CAD models of machinery and spaces.
For clients in our Mid-Atlantic service area, meaning Maryland, Virginia, Delaware, West Virginia, Kentucky, Tennessee, Pennsylvania, Michigan, Wisconsin, and Illinois, we can produce accurate 3D models of whatever you need to document.
ABOUT WEST RIVER CONVEYORS
Our primary role is the design and installation of conveyor systems and related equipment for companies in the mining and other extractive industries. We're skilled in designing and fabricating heavy-duty machinery for both new installations and integration into and expansion of existing facilities. We also offer an extensive range of parts for conveyor systems and terminal equipment including durable and fire-resistant belts.
Having invested in advanced capabilities to enhance our engineering services, West River Conveyors is now making these available to customers with one-off or recurring needs. If accurate CAD models of existing machinery, installations, and spaces would save you time and money, we've got you covered.
Call us at 800-332-2781 to discuss your 3D scanning needs.